Teqball is a football-based sport, played on a specially-curved table (the Teq table).
How to play?
Teqball can be played with balls used in football, with size five being official and recommended.
Teqball can be played by two players (singles game) or by four players (doubles game).
A teqball match consists of best-of-three sets.
Each set is played until a player/team reaches 12 points.
Every player/team has two attempts to complete a successful service.
The players/teams change service after each four points.
It is forbidden to touch the ball with the same body part twice consecutively.
It is forbidden to return the ball with the same body part twice consecutively.
Every player/team is allowed to return the ball with a maximum of 3 touches by any body part, except for the hands and arms.
In doubles, a team has a maximum of 3 touches, however, the teammates must pass the ball at least once to each other.
While playing, neither the table nor the opponent can be touched.
In case of an edgeball, the rally shall be repeated.
TEQBALL SMART
created a new football-based sport called Teqball.
Four (4) other sports can also be played on this amazing table (Teqis, Teqpong, Qatch and Teqvoly).
Teqball tables are made to meet our exacting standards of quality and durability, with Teq 'Smart' having the added advantage of being easy to move to any location, indoor or outdoor. This is made possible by the addition of lockable wheels and by its foldable structure. The 'Smart' table can also be folded on just one side to create a rebound wall to play and practice against.
Truly innovating and skill-enhancing, the Teq Smart is:
Indoor / outdoor
Easy to locate
Waterproof
Easy to fold and store
Mobile
Can be played on anywhere, at any time, by anyone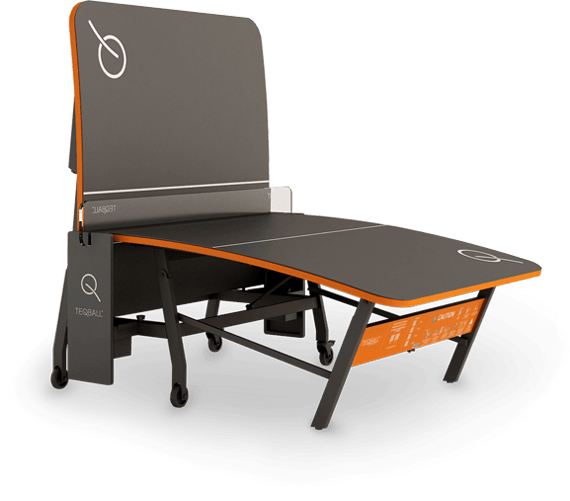 TEQBALL ONE
The soul of Teqball is the table; a new and revolutionary sports equipment that took over two years' testing and research to eventually develop its final innovative and sophisticated shape. The net is solid and thus the ball bounces back from it, so this way the concept of uninterrupted games is no longer a dream. The structure of Teq table, aligned with the rules, does not allow luck or chance to interfere with the game; players can only rely on their skills and abilities.
Indoor / outdoor
Waterproof
UV resistant
Fixed structure
Easy to assemble
Can be fixed to the ground